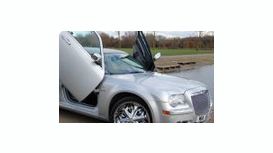 Providing Luxury, high end Limo hire in Peterborough, Stamford, Boston, Cambridge, Lincolnshire and surrounding areas. Try Hummer hire Stamford, Lincoln, Boston Hummer Hire Specials. Hummer Hire Peterborough Hummer Hire Peterborough, Chrysler C300, Jeep, Range Rover Limo for hire specialists. VIP Limo hire, for those special occasions, night club runs and all social events, Royal Ascot Limousine, Newmarket Races Limo specials. Book a Limo : Its very easy to book a Limo with Limo Hire Peterborough, you are only a phone call away in securing your Limousine, a small deposit secures your vehicle for your dream trip out on the town or special occasion, A small deposit secures your limousine.
Have you booked your Limo yet? Limo trip to the Peterborough Greyhound Track? 2010 Prom Limo? Birthday Party Cruise? Wedding Limo, we do same sex weddings as a speciality aboard our Super Pearlescent Pink Limo. All events catered for. Mardi Gras, Royal Ascot limos.
---
Reviews and Ratings
We do not have any reviews about Hummer Hire Peterborough available right now.